Higher
Reminding ourselves how to breathe...(Rebecca Smith)
I want them to learn the trick of gaining perspective, of being able to slot your shattered thoughts back into place.
I have not walked up a mountain for quite some time. My life is made up of compartments, pieces of time that are sectioned off for certain things: work, school, football practise, football matches, food shopping, seeing family; the list, inevitably, goes on. With two young children, a freelance career and a degree to study for, I have not yet created a solid slice of time for exploring the higher wilder places. This, I must do.
I explore the lower wilderness, the woods and the lochs nearby, the beaches and the iron-stained rivers. It is easier. To paddle in the sea, watching the toddler taste sand for the first time, or to take the bike to the woods where the tracks are worn and wide enough for a buggy. It is much more difficult to carry a wriggly baby up a Munro, or persuade the older child that, 'it takes more energy to sit down and get back up again than it does to keep going,' – my Dad's astute words and ones I now use often.
But I miss the height of a mountain. I miss the shock of the wind as you round the edge of a rock formation and the view takes your breath away. Gaining height and sitting for a moment helps my thoughts slot into place. It helps me see things clearly.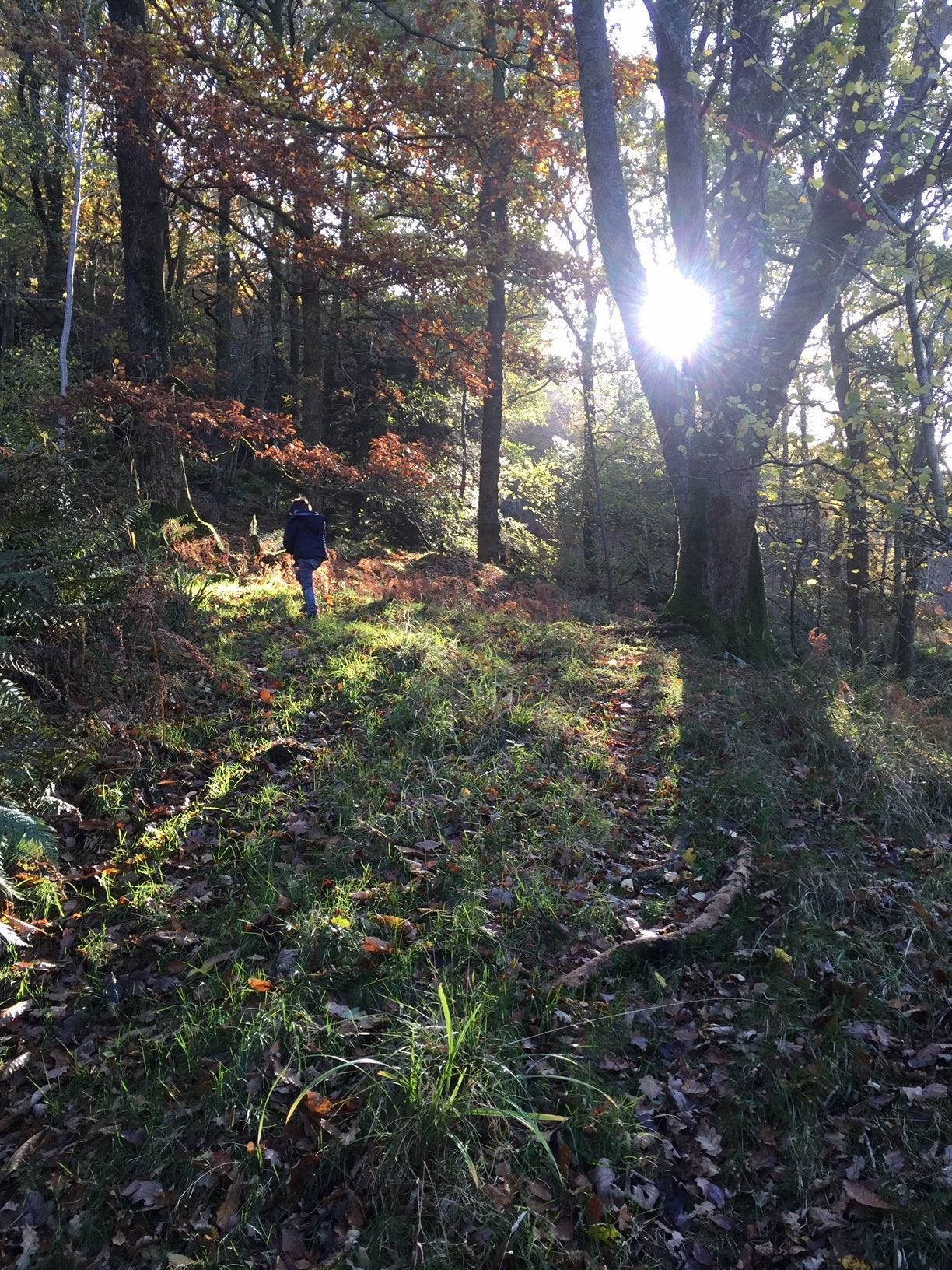 As a child, I explored my back garden. I was lucky enough to have a garden that stretched for hundreds of acres through thick forests of pine, with old stone ruins and a lakeshore. We lived on a Country Estate - my father was the forester, part of a small community that helped run the estate. This working-class rural lifestyle is disappearing. Now, there is no need for a joiner, a forester, a plumber, a blacksmith to live on the Estate. Instead, there are playparks, visitor centres and holiday homes. I have only recently become aware of how privileged I was growing up in the heart of this wild land. Childhood was steeped in nature and adventure, in exploring places that are hard to reach. And the benefits of going 'up' is one of the most important lessons I leant.
When I was thirteen, I started to explore the hillside above my house. There was a vertical slab of stone you could see from the other side of Lake Windermere somewhere amongst the trees. It stuck out like a sore thumb, like a marker - a sharp contrast from the tips of pines trees that looked like paintbrushes dipped in varying shades of green. I pushed my way underneath the prickly boughs of Sitka Spruce, jagging my arms as I went. I joined deer paths which led me to clearings where long grass flourished and white moths floated in the disturbed grass. I came across deep gorges in the rocks, ruins of old stone walls and startled deer. I never saw any other people.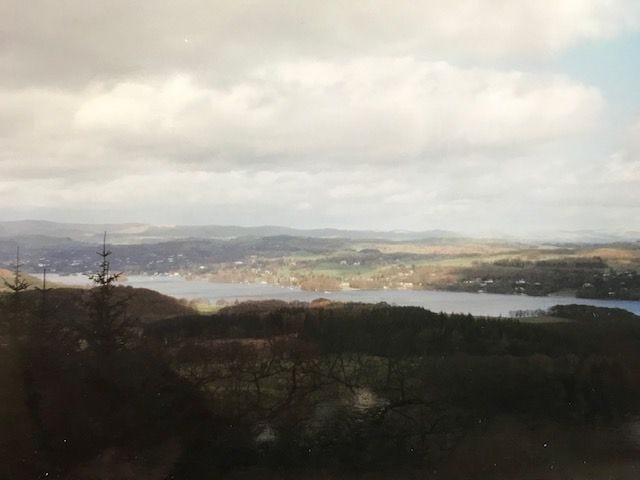 I felt euphoric when I finally found the rock (christened, predictably, 'The Big Rock'). I sat on the tip of the wedge of slate, legs dangling over a twenty-foot drop and breathed in the view. I could see the range of mountains I saw every day from my bedroom window but now, from up high, I could see the water of Windermere. The Lake was normally hidden from view of our house but we often heard the bass of the music from the tourist party boats on a Saturday night. I could see the town of Bowness and the mansion houses on the road to Newby Bridge, with their moorings by the water. I watched clouds roll over the rounded mountains. I could breathe here.
The necessity to 'get a bit higher' has never left me. As a young student, if I ever felt far from home, lost, or simply agitated about something, I would climb up the nearest hill and sit on small plateau looked down at the rest of the world. It wasn't very high, it didn't take long but, all of a sudden, I felt a weight lifted off my shoulders.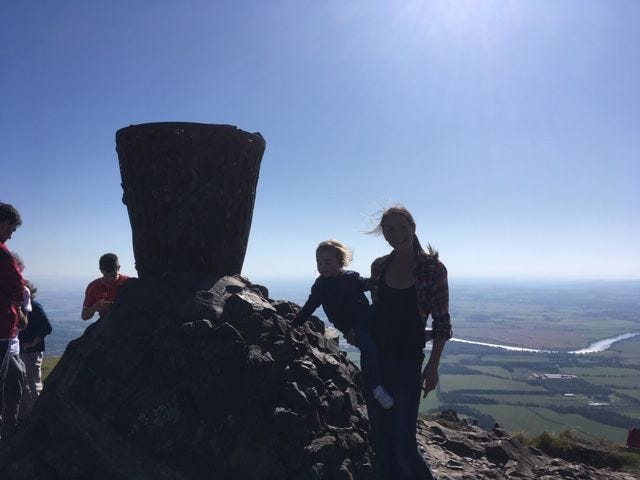 I have a collection of places I take my children that fill that need for altitude, cajoling the toddler with promises of chocolate at the top. If it only takes an hour out of the minutia of the day then it seems feasible. I want them to learn the trick of gaining perspective, of being able to slot your shattered thoughts back into place. Maybe when they are older, they will explore the highest places on their own. For now, a short walk to gain some height, to remind me how to breathe again — that will have to do.
(all images reproduced with kind permission by Rebecca Smith)
Higher -
was originally featured as Thread 15 (November 2019) in the Wild Woman Web
(Wild Women Press)
, a monthly thread bringing together wild women from around the world.
---
Nature Energy - Rosemary
by Ruth Snowden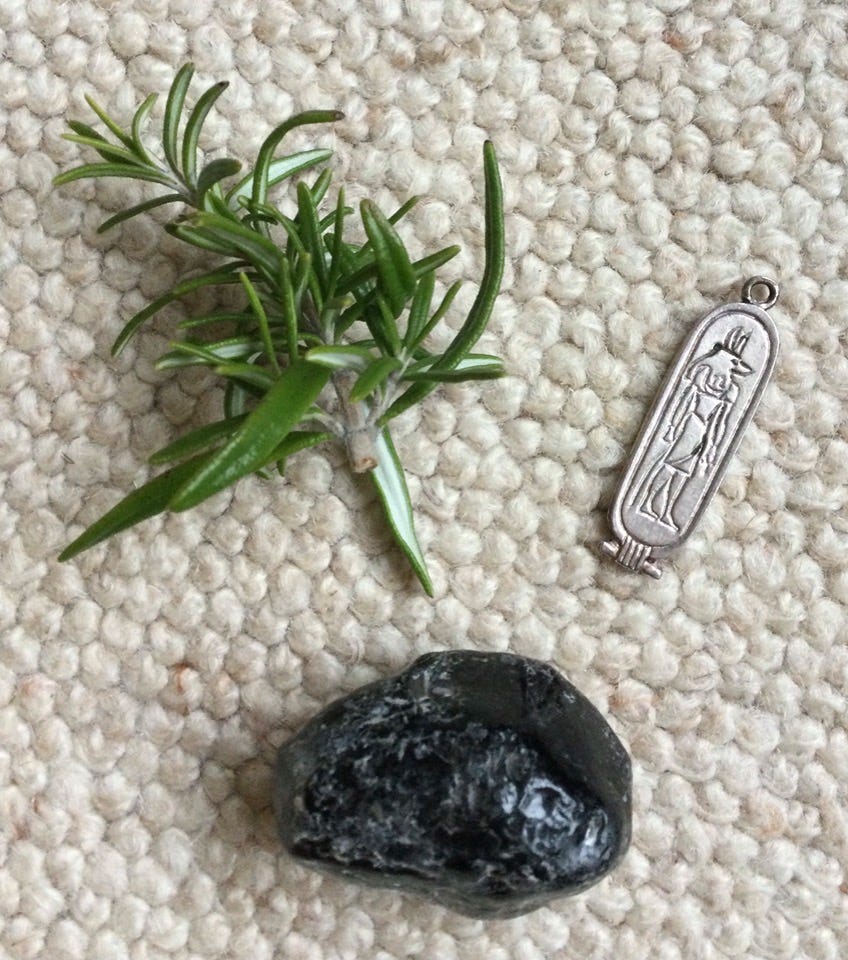 The winter season of Samhain begins at the end of October on the night of Halloween, the time when the veil between the worlds grows thin. Rosemary is a good herb for this time of year - a herb of ancient magic, going back and back into the roots of time, long used for cleansing, protection and honouring the dead. Some say the Greek goddess Aphrodite rose from the sea wearing a garland of rosemary around her neck. The name of the herb reflects this event, because it comes from Latin - ros marinus - dew of the sea. The Virgin Mary is also associated with the herb - she spread her blue cloak across a rosemary bush, giving the flowers their heavenly blue colour.
My earliest memories of rosemary are from an endless time of hot summer sunshine, the bushes alive with bees gathering nectar from the blue flowers and the heady scent of it filling my whole being with something magical, long ago and half-remembered. One of the oldest known incense herbs, it stimulates the memory and clarifies our thoughts. Use it under your pillow to help get a good night's sleep and induce prophetic dreams, or hang a bunch at your front door to keep away evil spirits. Elves, on the other hand, are attracted to it - so grow some in your garden if you want to meet them.
Let rosemary help you to find the answers you are looking for - gather a few sprigs to make a little altar, or put them in a warm bath to help you relax and meditate.
What do you need to clarify in your life? What nagging question is at the back of your mind?
Now for a few writing prompts for your Wild Journal…pick up a pen and write for five or ten minutes beginning with the following…
Far away and long ago...
My grandmother's favourite thing...
The scent of rosemary...
---
Notice Nature — Soundscapes
by Amanda Goode
During the early lockdown this year, many people were treated to the sound of nature without the hum of human noise drowning it out. Perhaps you have already begun to pay more attention to these natural soundscapes? If you have not, learning to tune in to them can help you notice things you maybe wouldn't have.
How you wish to do this is up to you. Perhaps you just want to simply tune in a bit more when you are out and about. Try to notice the natural sounds around you, no matter how insignificant they may be. Or you could try and name the sounds that you hear. It doesn't matter if you don't know the correct names for them; just make up your own. You can simply call your sounds 'squeaky bird', or 'harsh bird noise', for example, but I find it really helps, both in picking out the individual noise and spotting the same noise again, to try and imitate it. You can try to copy the sound the best you can, or think of a way you could spell out the sound: a yellow-hammer's call is supposed to sound like 'A little bit of bread and no cheese.' Be creative and have fun.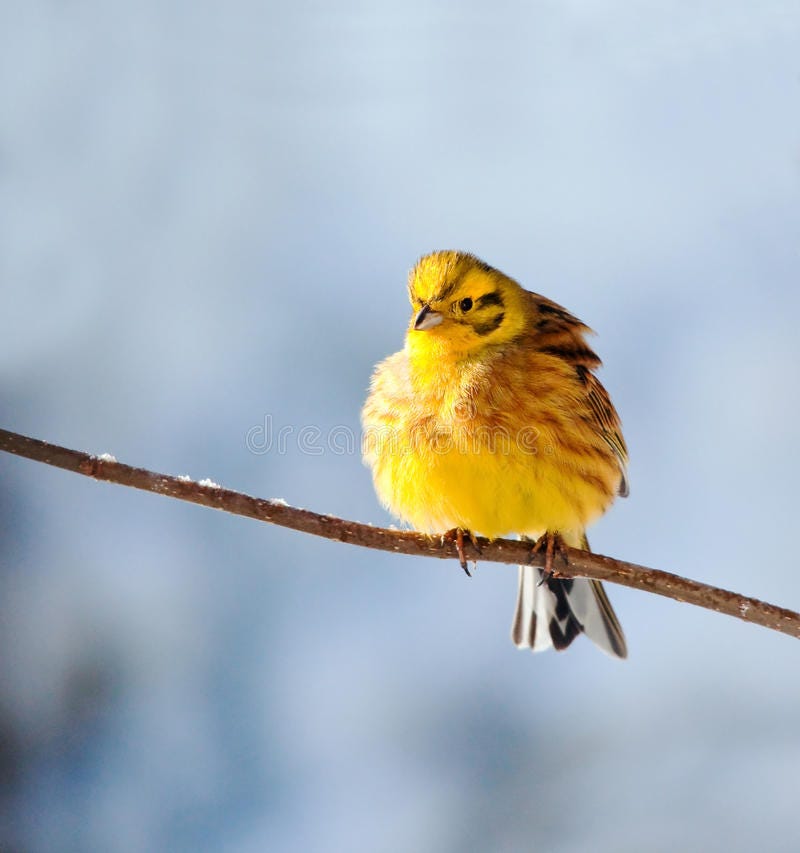 Don't limit yourself to birdsong or other vocal noises – many a grey squirrel has revealed itself to me by making a huge crashing noise in the trees. Even a small rustle or a splash can reveal something you didn't know was there, and the change in the rustling of the trees can sometimes indicate the imminent arrival of a rain-shower.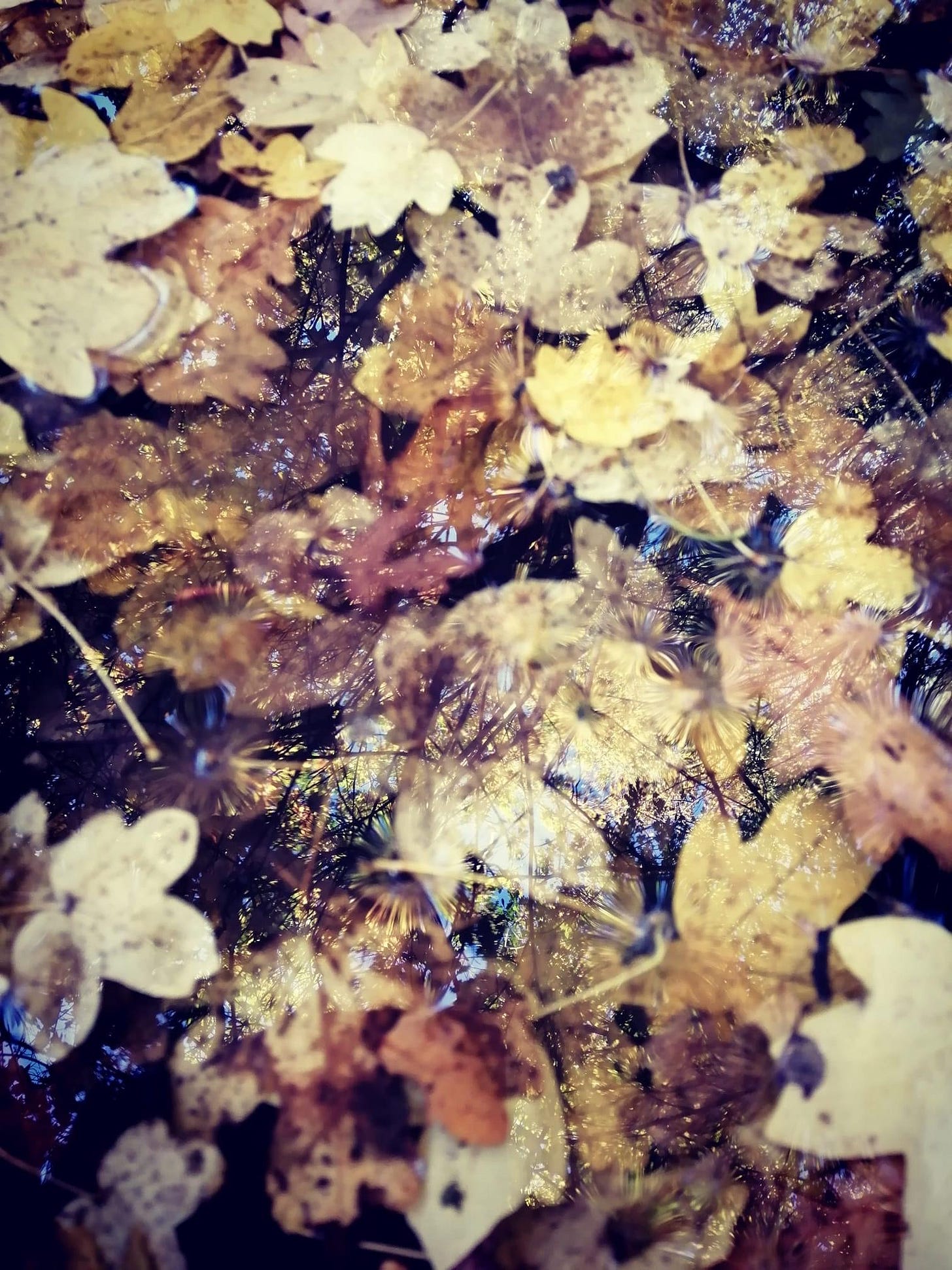 (image credit - Amanda Goode)
You may be content just listening and strolling by, or you may try to locate the source or creator of the sound. Don't be disappointed if you don't always spot something – a lot of British birds and small mammals are notoriously brown and hard to spot — but there can be great rewards if you do look to the source of the sound. I heard a squeaking bird above me - an unusual noise for my soundscape – and looked up to see two panicked starlings being chased by a sparrowhawk. I often hear buzzards or migrating geese and know to look up and try and spot them.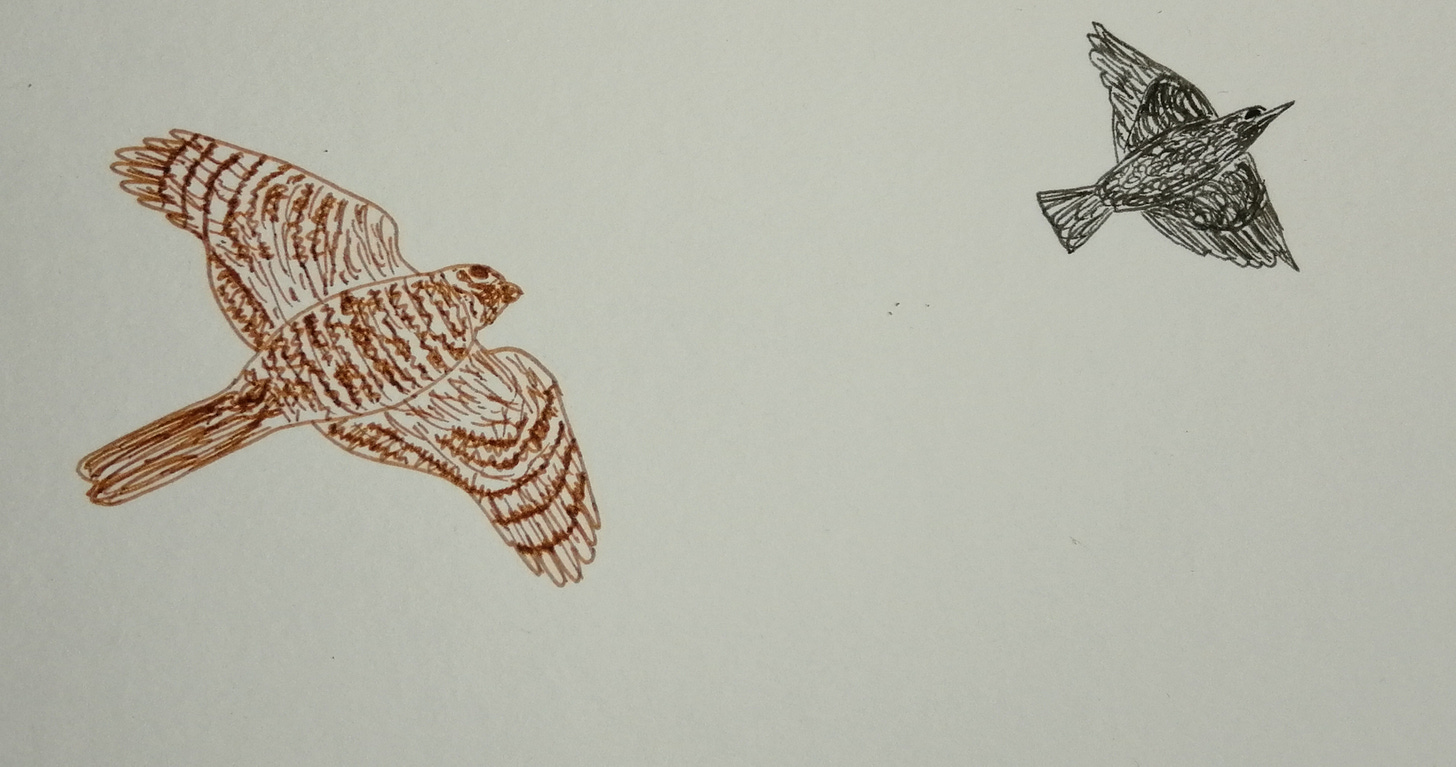 If you want to do this really in-depth or as a project, you can note down your discoveries. In-depth or not, you may want to experiment with different soundscapes. There will be a completely different soundscape first thing in the morning compared to the middle of the afternoon; are there different noises again after dark? The sounds you hear at different times of the year will also be different. Also, try different places; fields, lakes, mountains and shorelines all have their own unique noises. If you usually walk through an area, try being still for a while and see if that makes a difference: birds, in particular, make different noises when they are alarmed, compared to when they have become used to your presence.
Once you have learned to tune into your nature soundscape, you may find that you notice it all the time; or perhaps you pick up when there is an unusual noise. Either way, congratulations – you are now more observant of nature!
---
What's In The Wild Cookfire…
Thieves Oil Blend
Thieves Oil is antibacterial, antiseptic, antiviral, and has immune-stimulating properties. It helps protects against flu, colds, bronchitis, sore throats, cuts and more. Mix the following essential oils together in a dark glass bottle and shake well to blend. Ratios can be adjusted to suit your scent preference.
80 drops of Essential Oil of Clove
70 drops of Essential Oil of Lemon
40 drops of Essential Oil of Cinnamon
30 drops of Essential Oil of Eucalyptus
20 drops of Essential Oil of Rosemary
10 drops of Essential Oil of Lavender
10 drops of Essential Oil of Cedarwood
(1 x 5ml bottle of essential oil contains approximately 85 drops)
---
What Deck We Are Using…
The Herbcrafter's Tarot is a perfect oracle companion for the longer days.
Created by Latisha Guthrie and Joanna Powell Colbert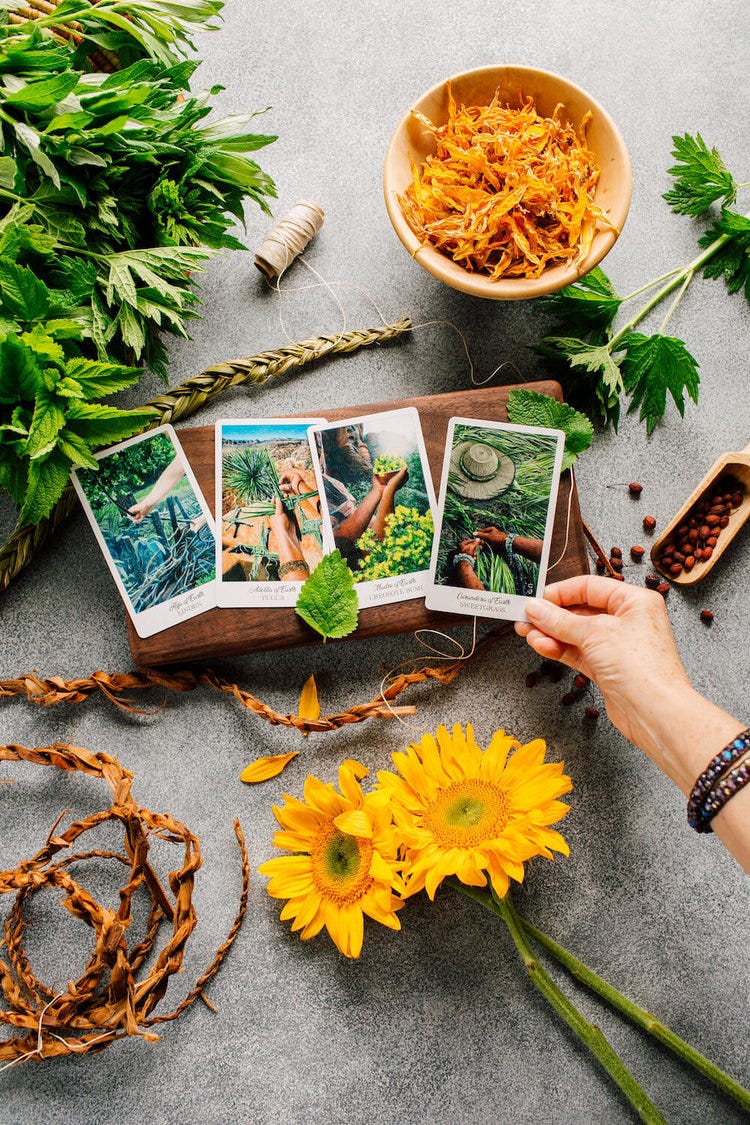 (image from www.herbcrafterstarot.com)
The Herbcrafter's Tarot celebrates the handicrafts, tools, and time-honoured folk skills related to herbs, trees, flowers and other plants that share their gifts with us. This deck and book set explores the relationship between herbs and how people use them for medicine, creativity, ritual, and spiritual guidance. It also considers herbs as archetypes and explores our partnership with the botanical realm. Herbcrafter's Tarot is an engaging introduction to herbalism and plant spirit magic and can be used as a profound divinatory tool.
The set includes a 78-card deck and a 124-page book full of herbal inspiration and ideas for crafting with the cards.
More information from https://www.herbcrafterstarot.com/
---
What We Are Reading
The Mountains You Cannot See - An Anthology of Poetry About Mental Health
Edited Katie Metcalfe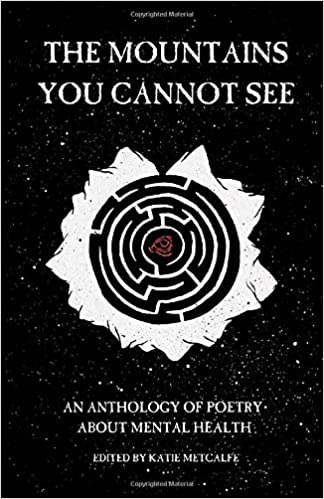 The poems that feature in this anthology are universal and significant. They're valuable conversation starters which you may find yourself sharing with a friend, a family member, perhaps even a mental health professional. All of the proceeds from sales of The Mountains You Cannot See will go to support charities which the poets have helped nominate. Those charities are: MIND, The Samaritans and CALM.
Published by Slice of the Moon Books
---
What We Are Listening To
Light For The World (Poor Clare Sisters of Arundel)
The Poor Clare Sisters share the music which brings peace and reflection to their everyday lives. Going back to the very roots of mindfulness, the music which makes up part of their daily practices. Offering a window of escape from the stresses of the modern world. Unaccompanied plainchant married with subtle production to create relaxing, meditative music. Designed to bring an authentic spiritual experience to everyday life. The Poor Clares of Arundel are 23 women living in a modest convent in the Sussex countryside.
---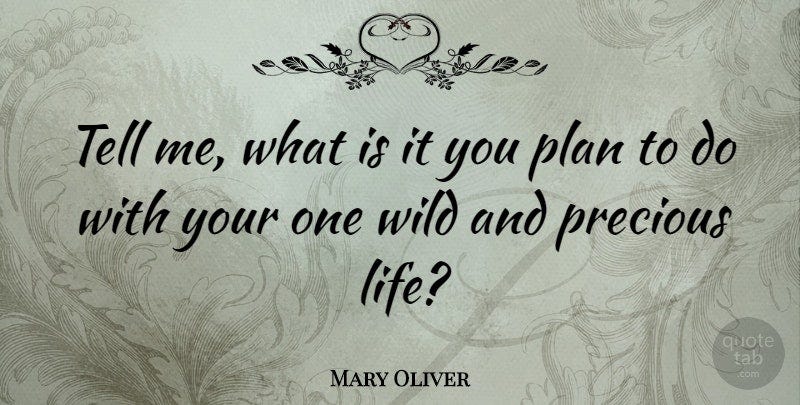 That's all for this month…
Wild Wishes!
Wild Woman Life is edited by Victoria Bennett & published by Wild Women Press