Walking the Territory
The End of the Growing Season - by Elizabeth Rimmer (Thread 3 - Wild Woman Web October 2018)
To all intents and purposes, the growing season in the territory of rain is coming to an end. We have had two early morning touches of frost, and the leaves are beginning to fall in the equinoctial gales. There are still flowers in the garden – marigolds, nasturtiums, evening primroses and Japanese anemones, and the Michaelmas daisies are just picking up – but most of the colour is coming from the bright red leaves of blueberry and witch hazel, and it's berry time now.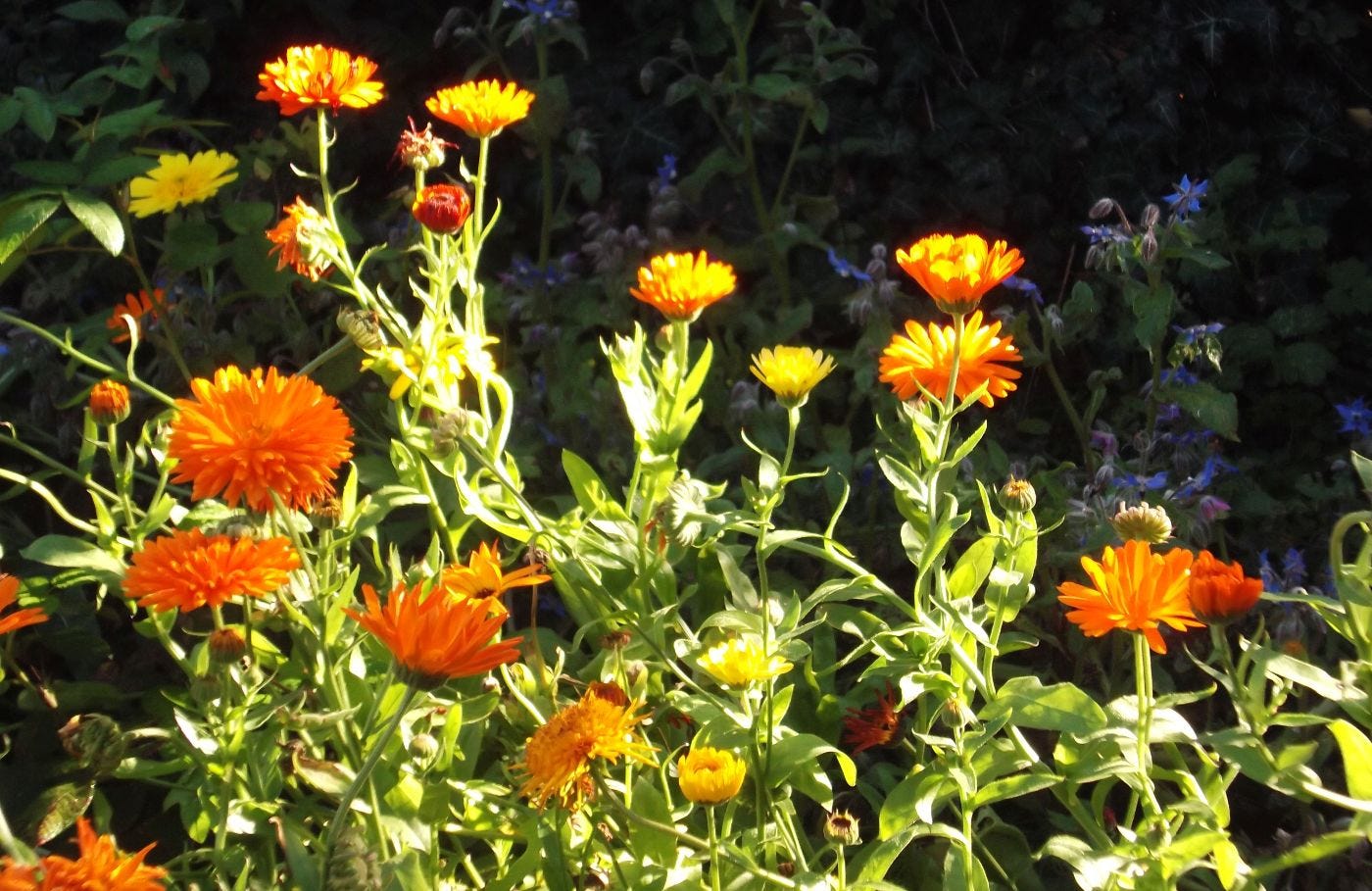 It has been a wonderful year for berries – brambles, rowans, rose hips and haws in abundance, and the elderberries that mark the end of summer. The last of the wheat and barley has been harvested and the fields are already being ploughed. On a telegraph pole along the edge of the field, there is a kestrel watching the small birds and mice scattering for cover, very pale in the morning light, and a cloud of black-headed gulls following the plough. The geese are back, and although there is still a house-martin's nest with young in it under an eave across the river, almost all the summer birds have gone.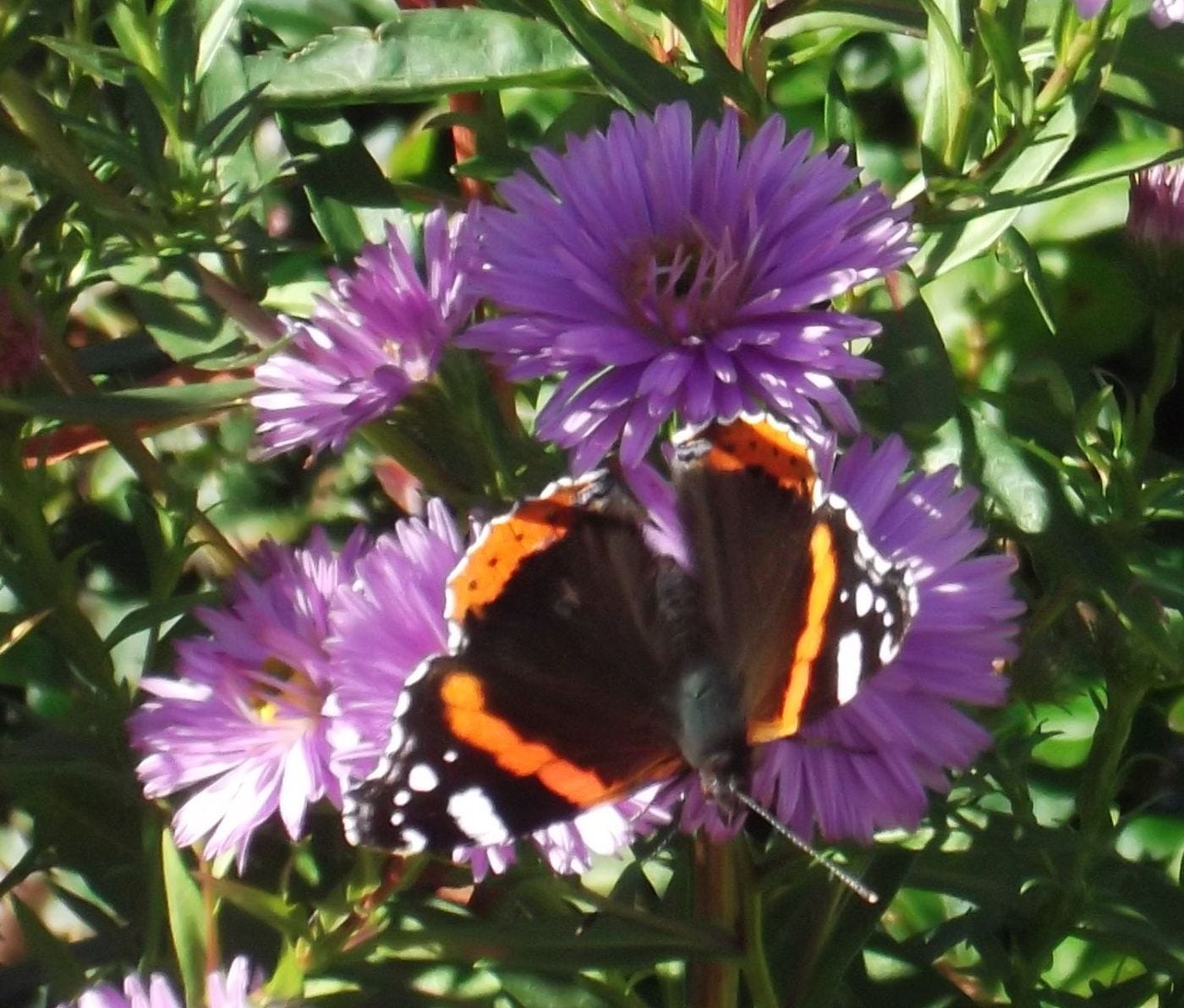 It has been a good summer for wildlife too. The birds have thrived, with almost all the species I notice raising their broods successfully. I've seen more bees and butterflies this year than for a long time, even some honey bees, which have been absent for the last few summers. Orange tips in the spring and painted ladies in early autumn were rarities when we moved here, but this year they have been frequent visitors, and peacock and red admirals have been everywhere.
Their patterns of behaviour have shifted now, though. Birds, apart from jackdaws and gulls, are leaving the fields and coming into the gardens. Tree sparrows, which disappear during the summer, have come back, and are getting bullied off the feeders by the new generation of house sparrows trying to claim squatters' rights. I have smelled fox taint in the early morning, and cormorants and goosanders are back on the river. Hares, which were so shy for years that I thought they had gone, are coming closer to the houses, and the deer are leaving the hill to browse in the fields. They came into the village for the first time last winter, but I think they will concentrate on gardens backing onto the fields. Ours is too small, surrounded by buildings on all sides, and enclosed with high hedges.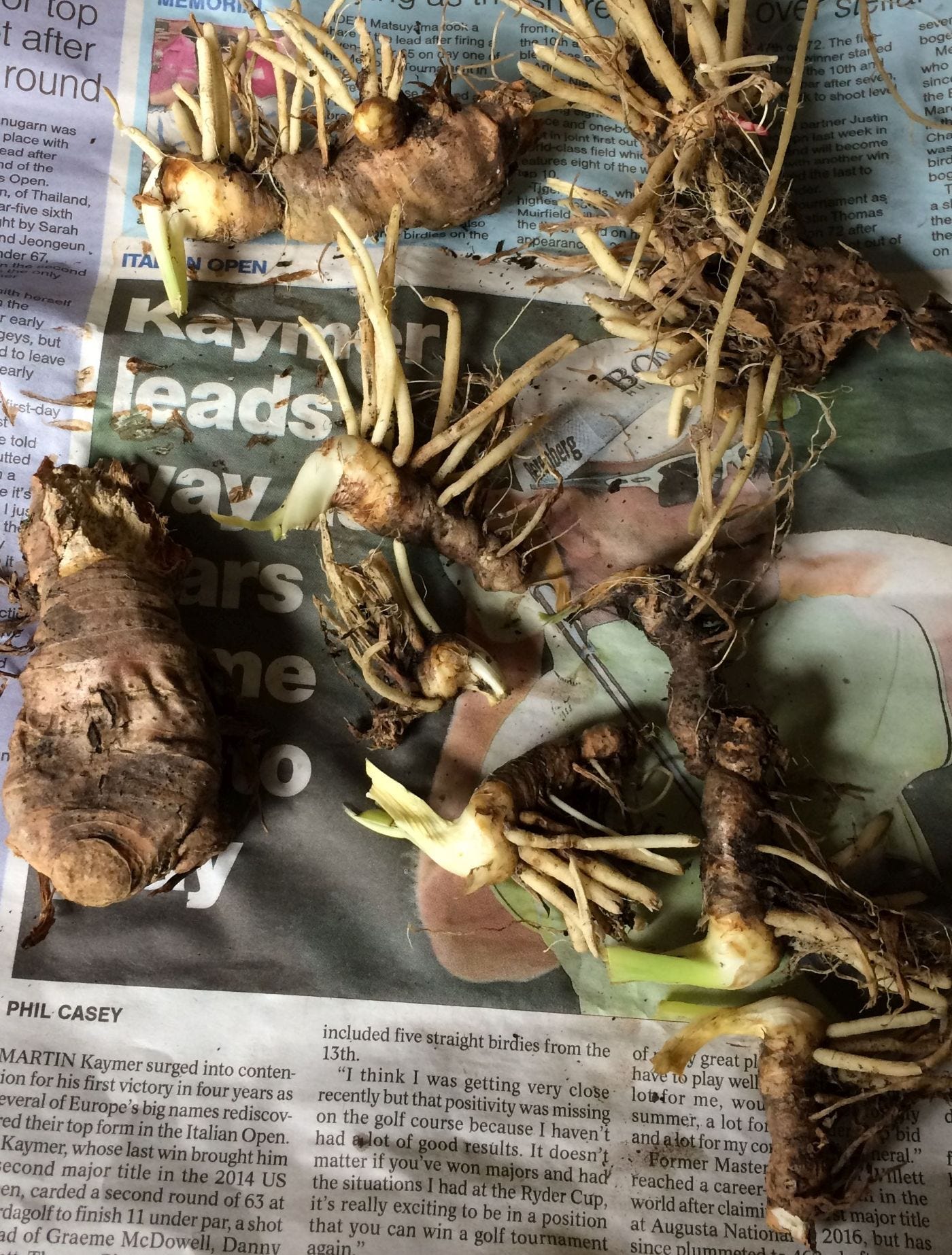 It is the time for harvesting – the blackberries are in the freezer, and apples have been dried and pureed or made into chutney with the green tomatoes that won't ripen now. I'm saving seeds – not only the marigold and poppy I do every year, but wych elm and hawthorn, and weld seed I took from a plant growing along the road-side. I've brought the tender pot plants into the greenhouse, and I'm turning my attention to roots.
These are orris roots. They will be peeled and dried, and then ground to powder. They have a scent of their own, similar to that of violets, but like violets, it is fleeting – our brains seem to turn it off after the first tantalising breath. But their chief use is as a fixative for other scents. You mix them with lavender or pot pourri, and it brings together all the varied floral and spicy notes, giving them depth and richness, and making them last longer. There is a poem in my latest collection, Haggards, called Instructions to the Laundrymaid, which begins:
If you boil your sheets in summer
with well-dried roots of orris,
in winter, they will be perfumed
with the fleeting scent of violets.
There are others I'm saving for dyes – dandelion and woodruff, which promise shades of pink and red, yellow flag and meadowsweet for black. I'm not optimistic – reds and blacks are hard to create, and I am fairly sure they will give me only various shades of beige and yellow. But in the cold and damp of the winter yet to come, I will have tastes and scents and colours from the territory of rain.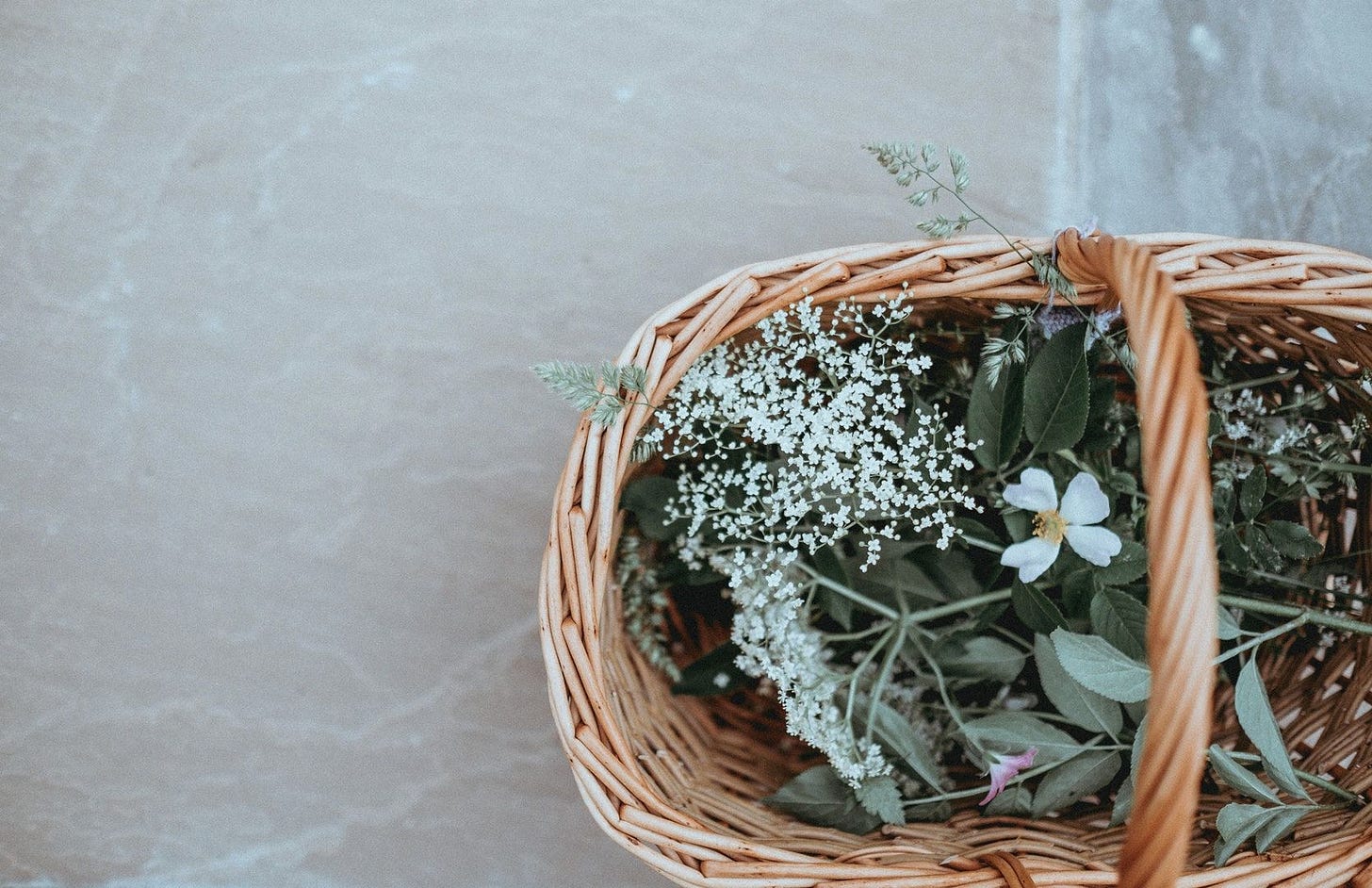 Elizabeth Rimmer has published three collections of poetry with Red Squirrel Press, Wherever We Live Now, (2011), The Territory of Rain, (2015), and Haggards in 2018.She has always taken an interest in herbs and how we use them as symbols for the values we cherish, and produced a modern translation of the Old English Charm of Nine Herbs in 2017. She has edited three poetry collections for Red Squirrel Press, and the 2017 anthology of the Federation of Writers (Scotland) Landfall. She is a member of the Scottish Centre for Geopoetics.
(all images owned by Elizabeth Rimmer, reproduced with kind permission)
Walking the Territory - the end of the growing season was originally featured as Thread 3 (October 2018) in the Wild Woman Web, a monthly thread bringing together wild women from around the world
---
Nature Energy — Toadstools
by Ruth Snowden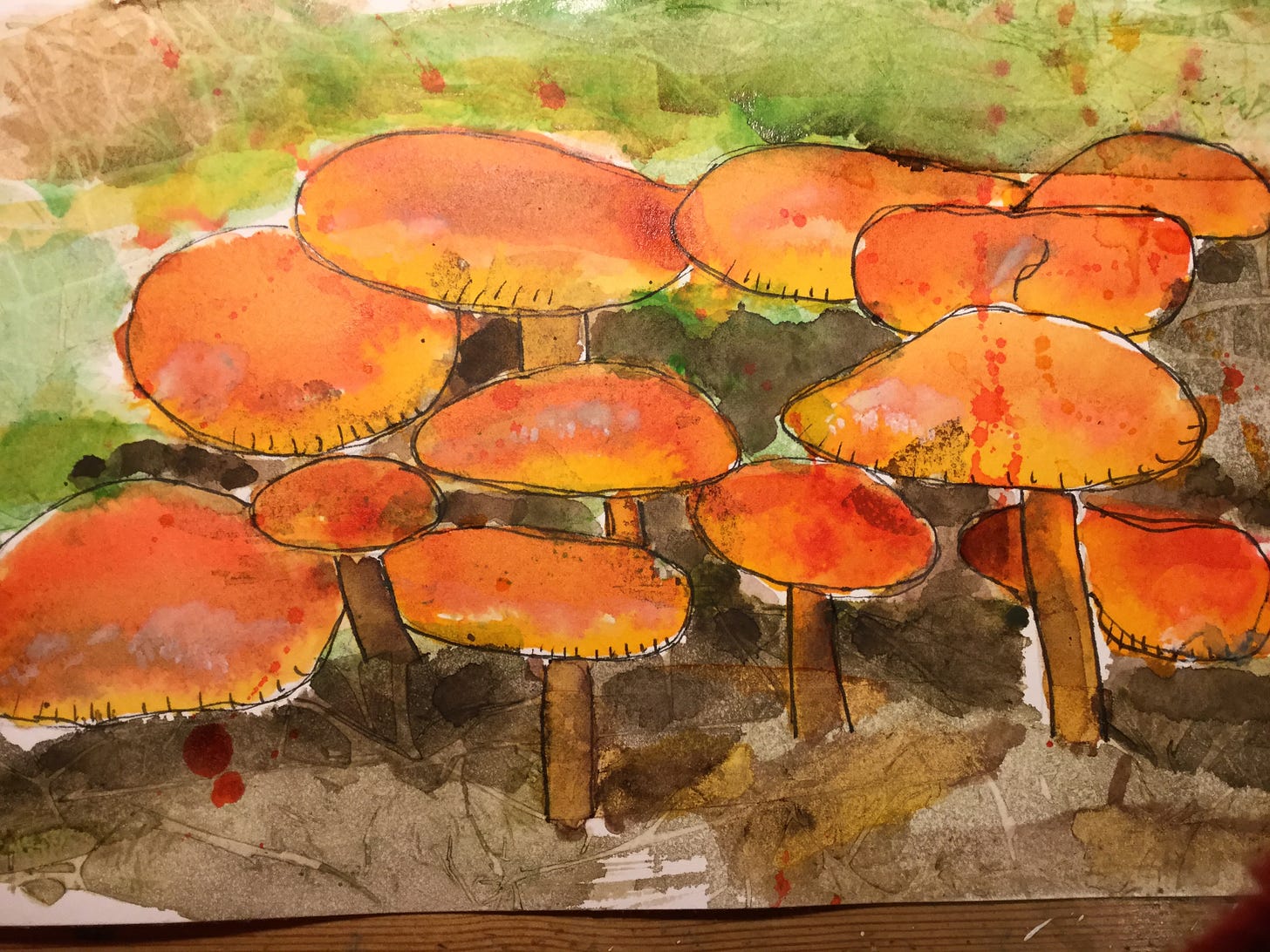 (painting reproduced with kind permission by Ruth Snowden)
Toadstools are springing up mysteriously overnight, emerging unexpectedly from the damp dark earth. In the field and forest, hedgerow and woodland, their weird, brightly coloured, many and elaborate forms are part of the rich artwork of autumn. Steeped in myth, legend and folklore, they take us to the realms of the fairy folk, the Others, the ancestors. Even their names are evocative and outlandish - Jack O'Lantern, Wood Woolly Foot, Lizard Tuft, Scarlet Hood, Earthstar, Stinkhorn. Alien, often dangerous, sometimes edible, sometimes swift bringers of death, they are part of a huge underground network that we humans know little of. They are an essential part of the ecosystem, agents of rot and decay, their hidden alchemy breaking down and recycling that which is finished, dead and done.
Toadstool energy is great for connecting with what you need to let go of. Using your Wild Journal, consider the following…
What is finished for you?

What do you need to let go of?
And now, time for a fairy story perhaps? What was your favourite fairy story when you were a child? Try writing your own story now, beginning with the words...
Once upon a time, deep in the woods...
---
What Deck We Are Using…
We have always used tarot and other oracle cards in our personal and group creative practice. At the moment, we are loving The Green Wheel Oracle, created by Danielle Barlow…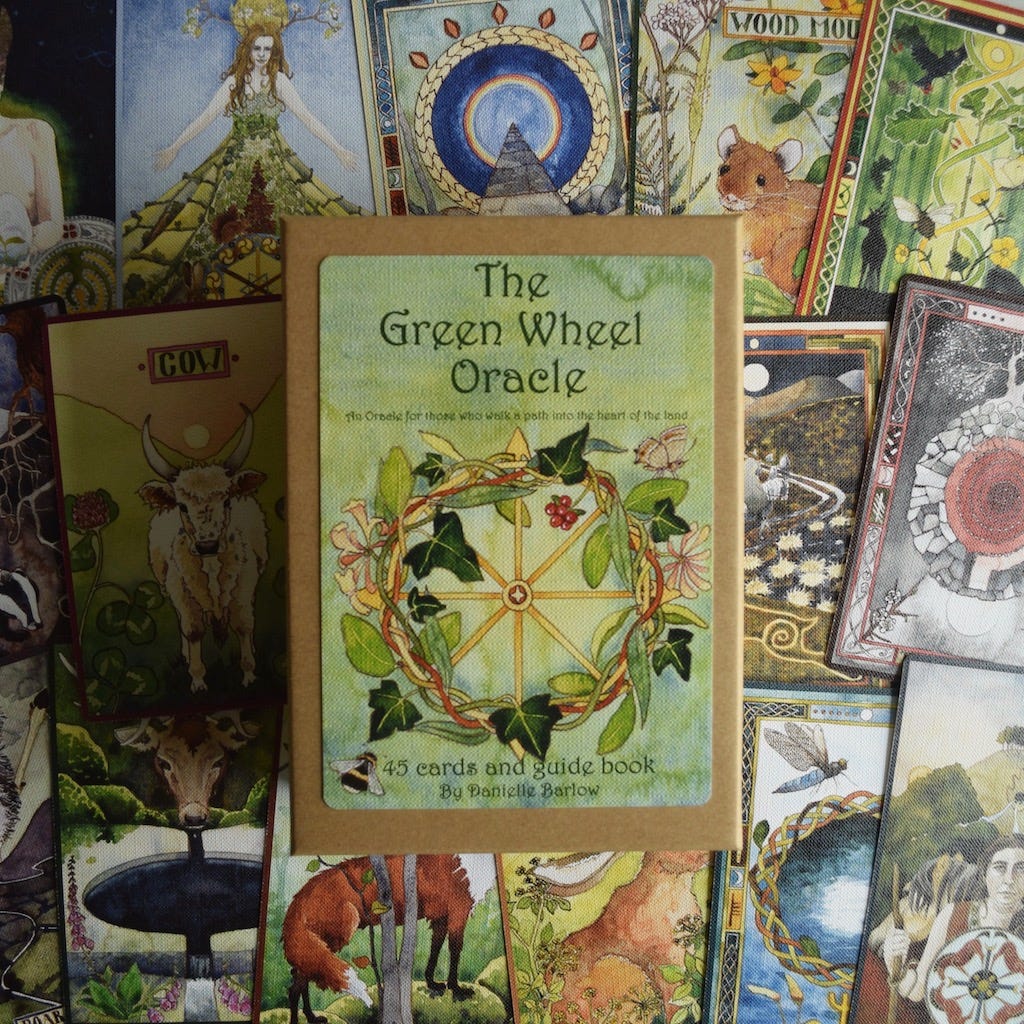 Danielle Barlow's oracle deck is a wonderful tool for exploring and honouring Celtic traditions and symbolism. Its 45 watercolour illustrations range across thirteen moons, the wheel of the year festivals, and a wonderful collection of animal and plant allies, all inspired by Danielle's home of Dartmoor, southern England, and ancient Celtic traditions. A small guidebook offers further interpretive notes. Perfect for daily draws, journalling, or altar or spell-work, or for deepening your connection to the land, seasons and lunar cycles.
Purchased from The Little Red Tarot
(image from The Little Red Tarot website)
---
What We Are Reading…
The Wild Remedy - How Nature Mends Us - A Diary
By Emma Mitchell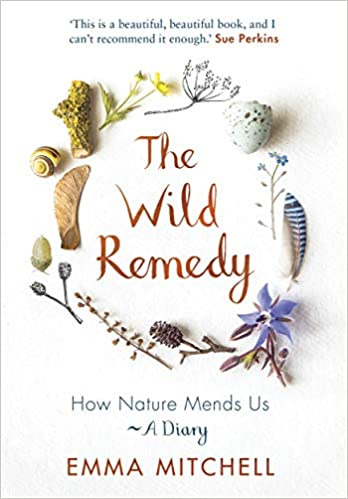 Advancing chronologically throughout the year, The Wild Remedy explores the bountiful wonders of nature with specific reference to how the great outdoors can aid mental wellbeing. Drawing psychological lessons from the seasons and various open-air activities, Mitchell provides a beautifully tranquil volume to soothe the stressed-out soul.
Publisher: Michael O'Mara
ISBN: 978-1789290424
---
What We Are Listening To…
The Lost Words Blessing (from The Lost Words: Spell Songs)
Eight visionary musicians, an astonishing book of magical spells - a chance to sing nature back to life, featuring Karine Polwart, Julie Fowlis, Seckou Keita, Kris Drever, Kerry Andrew, Rachel Newton, Beth Porter and Jim Molyneux.
---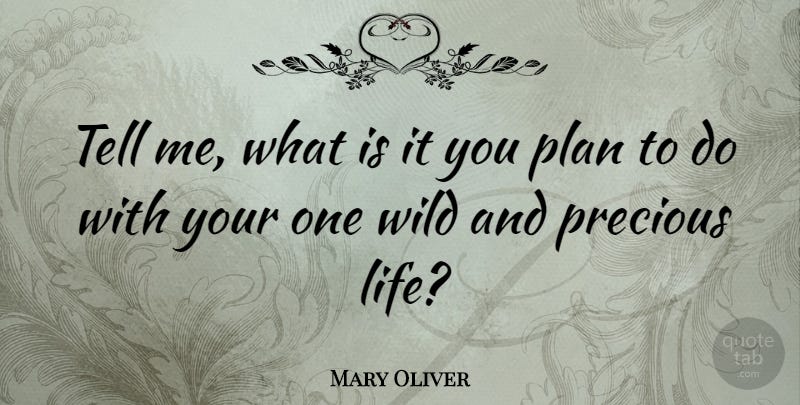 That's all for this month…
Wild Wishes!
Wild Woman Life is edited by Victoria Bennett & published by Wild Women Press